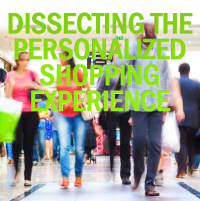 Creating an inspirational and exciting customer experience using digital tools not only enhances the real-time shopping experience for customers, but is an opportunity to collect data that improves future experiences. Customer analytics such as loyalty and CRM data, demographic-specific shopping behaviors, online shopping purchases and social media trends, can fuel the customized shopper journey. The "bells and whistles" of in-store technology, when adding real value to the customer experience, can further drive engagement while increasing sales:
Refined beacon transmissions can tailor products to match shopping history, regional information, demographics, etc. Is it raining at your shopper's location? Serve up umbrellas and boots in their preferred brands or colors.
Interactive displays and digital dressing rooms can deliver virtual suggestions that upsell, such as matching accessories for a new outfit, or offer alternate color and fit recommendations.
mPOS-enabled store associates can look up past purchases and product specs on the fly to help in-store decision making.
Retailers who keep a customer-centric focus and don't put flash before substance while engaging their suppliers as supply chain partners should be able to boost customer value and store-driven sales. The more tailored the shopping experience, whether online or in-store, the more engaged and responsive the customer becomes.