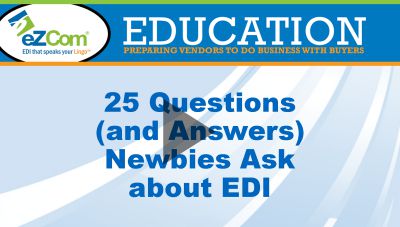 What is EDI?
EDI (Electronic Data Interchange) is the electronic communication of business transactions, such as orders, confirmations and invoices, between organizations (Trading Partners).
EDI technologies have reinvented trading partner communication, helping supply chains operate more efficiently, faster, and saving money for all parties involved. Trading Partners can now create and deliver purchase orders, invoices and other trading documents that once took weeks, in a matter of minutes. Our EDI solution Lingo™ offers our breakthrough Accelerated Document System™ (ADS), which can drastically reduce the need for manual data entry freeing up valuable resources to focus on more important business functions. Thanks to the advent of more cost effective cloud-based solutions, companies of all sizes can now enjoy the immense benefits of EDI.
If you are new to EDI, eZCom should be your choice: our attentive and individualized customer service, combined with Lingo's ease-of-use, will have you EDI-capable in no time.
EDI 101 Document Flow Process
In a traditional supply chain, retailers place orders, suppliers ship merchandise and then bill retailers for items shipped. In an EDI environment, the concepts remain the same–but the process is managed using electronic documents instead of paper. For example:
Purchase Orders & Changes
Once you convert to EDI, your retailer customers may send Purchase Orders (PO's) to you electronically, and will stop sending them via fax or postal mail. These documents are referred to as 850s. Once you receive these PO's, you then:
Receive your Purchase Orders and enter them into your internal system.
Download data files that can be automatically integrated into your back-office system(s).
Operate on a fully integrated basis with your back-office system and conduct EDI functions from this system.
When your retailer customers make changes to PO's, you may receive these changes electronically via Purchase Order Changes, also known as 860's.
Shipping Documents
Some of your retailer customers may require you to route documents to them that itemize what's been shipped versus what's been ordered, state when products have been shipped and describe by what means products are being shipped. One of the standard EDI shipping documents is the Advance Ship Notice (ASN), also known as an 856. Additionally, EDI shipping documents usually include corresponding bar-coded carton or pallet labels also known as the GS1-128 label. When used, these labels serve as an electronic packing slip, advising the retailer what is in each carton upon initial scan at time of receipt.
Invoicing
Ready to bill your customers? With EDI, you send your retailer customers electronic invoices, referred to as 810's. Don't be surprised if your retailer customers opt to pay you via electronic funds transfer, depositing payment directly to your company's bank account. If this becomes their payment method of choice, you'll likely get your Payment Remittance Summary – called an 820 — electronically as well.
How Do I Get My Data?
Think of your EDI address as your home address. Just like the postal system, everyone has an address. When your Trading Partner creates a Purchase Order, they electronically affix your EDI address to the PO. The PO is then sent via EDI to a Value Added Network, or VAN. The VAN works like the Postal Service – it knows the best route to your EDI address, your mailbox on the network. Your EDI solution then translates this data into a readable format, so that you and/or your ERP system can understand it.