Win Marks Three Consecutive Years of Honors for Customer Service-focused EDI Provider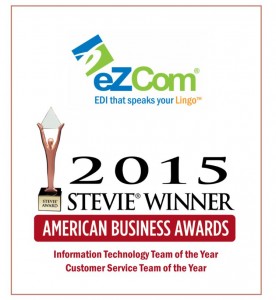 ENGLEWOOD, NEW JERSEY– August 1, 2015 – eZCom Software, provider of the cloud-based EDI (Electronic Data Interchange) software Lingo™, was presented with two Stevie® Awards in the categories of "Information Technology Team of the Year" and "Customer Service Team of the Year" at the 13th Annual American Business Awards in Chicago.  This is eZCom's third consecutive ABA win for customer service, and the company's first award for IT.
In the Customer Service category, eZCom was recognized for a myriad of accomplishments, including its ability to exceed customers' support expectations, implementing extended support hours and increased staff, as well as maintaining a high level of technical expertise.
Contributing factors to the win in the Information Technology category included the team's track record of developing new and innovative technologies to support customers' needs, as well as ahead-of-the-curve updates to the company's easy-to-use, ultra-efficient Lingo platform—resulting in exceedingly fast and compliant EDI.
"We have received a total of 6 Stevie awards in recent years, and we couldn't be more proud of our entire eZCom team," explains Ted Cancila, Director of Client Services. "Each year we set new goals to enhance the standard of service for our customers, and it's great to see that we're not only reaching the bar, we're raising it."
"Our company-wide credo of service is the basis of everything we do, including development," stated Natalya Shekhtman, Sr.Java Developer. "Our software development team works hand in hand with our customer support and implementation teams to stay on top of customers' needs.  We try to anticipate what will make the EDI process easier, faster, and more economical down the line. We pride ourselves on having the most sophisticated information technology built into our solutions, and presenting it in such a way so that even the most techno-phobic user can easily understand how to navigate and process orders that meet retailer compliance guidelines."
"The judges were especially discerning this year," stated Michael Gallagher, president and founder of the Stevie Awards.  "All of this year's Gold, Silver and Bronze Stevie winners should be proud that the judges recognized their achievements and their ability to express those achievements in a way that captured the judges' hearts and imaginations."
The American Business Awards are the nation's premier business awards program. Nicknamed the Stevies for the Greek word meaning "crowned," the awards were presented to winners during a gala banquet on Monday, June 22 at the Fairmont Chicago Millennium Park Hotel. More than 3,300 nominations from organizations of all sizes and in virtually every industry were submitted this year for consideration, and more than 200 executives worldwide participated in the judging process.
About eZCom
Founded in 2000, eZCom software provides cloud-based B2B supply chain software solutions—including the easy-to-use and streamlined EDI (Electronic Data Interchange) solution, Lingo™. eZCom's Lingo simplifies and speeds the trading process, while the eZCom customer service team exceeds expectations from first inquiry through implementation and sales growth. Every member of the eZCom Customer Support Team is a trained EDI professional. Each works onsite at the corporate headquarters in Englewood, NJ to help facilitate collaboration and maintain the high level of technical expertise; as well as to provide customers with unlimited, individualized, and highly effective education and problem solving throughout the EDI process. To learn more about eZCom and Lingo, please visit www.ezcomsoftware.com, or contact the company at sales@ezcomsoftware.com.
About The Stevie Awards
Stevie Awards are conferred in six programs: the Asia-Pacific Stevie Awards, the German Stevie Awards, The American Business Awards, The International Business Awards, the Stevie Awards for Women in Business, and the Stevie Awards for Sales & Customer Service. Stevie Awards competitions receive more than 10,000 entries each year from organizations in more than 60 nations. Honoring organizations of all types and sizes and the people behind them, the Stevies recognize outstanding performances in the workplace worldwide. Learn more about the Stevie Awards at http://www.StevieAwards.com.