Women Around the World Recognized at Recent Event in New York City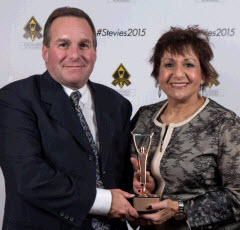 ENGLEWOOD, NEW JERSEY – November 14, 2015 – For the second year in a row, eZCom Software—makers of the streamlined, cloud-based EDI solution Lingo™ –has been honored with two awards at the 12th annual Stevie Awards for Women in Business. The prestigious panel of business luminaries recognized eZCom's achievements in two categories: Best New Product or Service of the Year—Business Services (for Lingo's suite of EDI functionalities designed to serve MTO (Made-to-Order) manufacturers and their retail partners); and Company of the Year—Business Services.
The Stevie Awards for Women in Business are the world's top honors for female entrepreneurs, executives, employees and the organizations they run. All individuals and organizations worldwide are eligible to submit nominations – public and private, for-profit and non-profit, large and small. The 2015 awards received entries from 31 nations and territories.
The Stevie awards, named from the Greek word for "crowned", were presented to winners Friday, November 13 during a dinner event attended by more than 400 people at the Marriott Marquis Hotel in New York City. More than 1,300 nominations from organizations of all sizes and in virtually every industry were submitted this year for consideration in more than 90 categories, including Entrepreneur of the Year, Executive of the Year, Company of the Year, Startup of the Year, among others. Stevie Award winners were selected by more than 160 executives worldwide who participated in the judging process this year.
"As a woman-owned business, I am excited to be doubly recognized by the Stevies this year," said Carol Weidner, CEO of eZCom Software. "I am proud that my diverse, creative and highly collaborative team enables eZCom to continuously drive our high standard of excellence in both product offerings and service. Anticipating our customer's needs, responding to retail trends and staying technologically advanced are all important criteria in our proactive, innovative approach to software development.  This includes Lingo's award-winning capabilities that support leading-edge retailer/manufacturer MTO collaborations. Lingo's robust EDI functionalities include exceptional features to support flawless trading with retail partners including drop ship program performance, flexible and scalable integration capabilities, quick turn customer service, responsive custom development, and facilitation of unique MOD (Manufacturing On Demand) accommodations with retail partners—such as special inventory management modifications."
"We are humbled by the accomplishments of so many high-achieving women in this program," said Michael Gallagher, founder and president of the Stevie Awards. "Their work is an inspiration to girls and women around the world who dream of starting and growing a business, managing a leading company, or improving their community.  We congratulate all of this year's Stevie Award winners."
Details about the Stevie Awards for Women in Business and the list of Stevie Award winners are available at www.StevieAwards.com/Women.
About eZCom Software
Founded in 2000, eZCom Software provides cloud-based B2B supply chain software solutions—including the easy-to-use and streamlined EDI solution, Lingo. eZCom's Lingo simplifies and speeds the trading process, while the eZCom customer service team exceeds expectations from first inquiry through implementation and sales growth. Every member of the eZCom Customer Support Team is an EDI expert located at the corporate headquarters in Englewood, NJ to provide customers with unlimited, individualized, and highly effective EDI education and problem solving.
To learn more about eZCom and Lingo, please visit www.eZComsoftware.com, contact the company at sales@eZComsoftware.com, or call 201-731-1800, option 1. For press inquiries, please contact Isabel Smith at ISmith@nurturemarketing.com.
About The Stevie Awards
Stevie Awards are conferred in six programs: the Asia-Pacific Stevie Awards, the German Stevie Awards, The American Business Awards, The International Business Awards, the Stevie Awards for Women in Business, and the Stevie Awards for Sales & Customer Service. Honoring organizations of all types and sizes and the people behind them, the Stevies recognize outstanding performance in the workplace worldwide. Learn more about the Stevie Awards at www.StevieAwards.com.