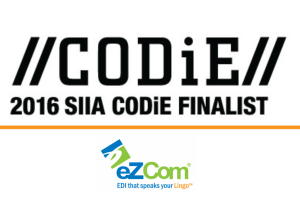 LingoTM earns prestigious industry recognition
For Immediate Release:
eZCom PR Contact:  Llyn Wood, 201-731-1831, lwood@eZComsoftware.com
SIIA Communications Contact: Allison Bostrom, 202.789.4466, abostrom@siia.net
WASHINGTON (April 6, 2016) eZCom Software, a provider of supply chain software solutions, today announced that Lingo was named a finalist for the 2016 SIIA CODiE Awards in the Best Supply Chain Management Solution category. Finalists represent the information industry's best products, technologies, and services in the software, content and business technology.
The SIIA CODiE Awards are the premier awards for the software and information industries, and have been recognizing product excellence for over 30 years. The awards offer 91 categories that are organized by industry focus of education technology and business technology. Lingo was honored as one of 215 finalists across the 62 business technology categories.
"I am amazed by the level of innovation and creativity of the products that have been selected as this year's CODiE Award finalists. We are happy to recognize them for their great contributions and impact they are making on the software, content and business technology industries," said Ken Wasch, President of SIIA.
eZCom's cloud-based application Lingo is an Electronic Data Interchange (EDI) solution that simplifies and speeds up the trading process, while ensuring compliance with retail trading partners. Manufacturers can integrate Lingo EDI with accounting, ERP, inventory, shipping, back office, or warehouse management software to reduce costs and streamline order management. Lingo's success is due to its comprehensive functionality, user-friendly interface, outstanding customer support, and the know how to build strong retailer relationships.
"We are proud and thrilled to be honored as a CODiE finalist," said Carol Weidner, CEO of eZCom Software.  Creating a positive impact in the marketplace is something we strive for every day.  We have designed a comprehensive software solution that enables manufacturers to successfully and accurately communicate electronically-vital business documents such as purchase orders and shipping information. Lingo is designed to manage a vast range of mandated retailer requirements in a very challenging omni-channel environment.  Whether it's a drop ship program or integration across various platforms, such as ERP, accounting and warehouse management software, we continue to focus our development on the wave of changes we are seeing in today's supply chain.   Addressing and incorporating these changes will maintain Lingo's reputation as a leading solution in the supply chain marketplace.
The SIIA CODiE Awards are the industry's only peer-reviewed awards program. The first round review of all nominees is conducted by software and business technology executives with considerable industry expertise, including members of the industry, analysts, media, bloggers, bankers and investors. The judges are responsible for selecting the CODiE Awards finalists. SIIA members then vote on the finalist products and the scores from both rounds are tabulated to select the winners. Winners will be announced during a virtual award ceremony on May 18.
Details about each finalist are listed at http://www.siia.net/codie/Finalists
About the SIIA CODiE™ Awards
The SIIA CODiE Awards is the only peer-reviewed program to showcase business and education technology's finest products and services. Since 1986, thousands of products, services and solutions have been recognized for achieving excellence.  For more information, visit siia.net/CODiE.
About eZCom
Founded in 2000, eZCom software provides cloud-based B2B supply chain software solutions—including the easy-to-use and streamlined EDI (Electronic Data Interchange) solution, Lingo®.  Focusing on integration and innovation, eZCom's Lingo simplifies and speeds the electronic order management process, while the eZCom award-winning support team exceeds expectations from first inquiry through implementation and sales growth.
To learn more about eZCom and Lingo, please visit www.eZComsoftware.com, contact the company at sales@eZComsoftware.com, or call 201.731.1800, option 1. For press inquiries, please contact Llyn Wood at lwood@eZComsoftware.com.