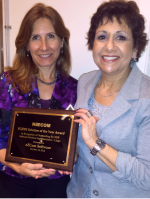 (November 10, 2014 – WESTFORD, MA) Recently, eZCom Software's streamlined EDI solution, Lingo™, received the NEECOM (New England Electronic Commerce Users' Group) EC/EDI Solution of the Year Award for 2014.  NEECOM presented the award at their annual Fall Conference to eZCom for the benefits Lingo™ has brought to the electronic retail trading community.  Specifically, NEECOM singled out eZCom's Lingo for innovation in the area of drop ship fulfillment.
"NEECOM created our 'EC/EDI Solution Award of the Year Award' to highlight a company that has brought innovation and significant benefits to the larger electronic trading community, specifically those doing business in New England," stated Ira Keltz, President of NEECOM.  "eZCom Software's award application highlighted the fact that retailers and their manufacturer partners have cited the explosion of 'drop ship,' or direct-to-consumer fulfillment, as one of the top challenges facing the community today.  eZCom's EDI-based drop ship fulfillment solution has enabled retailers and their manufacturer partners to compete on a more level plane with e-tailers; extend product offerings without incurring additional costs and risks; offer much more efficient and higher volume direct-to-consumer capabilities; and has overall enhanced supply chain efficiency and provided higher profits. For those reasons, we were thrilled to honor eZCom with our first annual EC/EDI Solution of the Year Award in 2014."
"We originally created a customized drop ship solution within Lingo to streamline and simplify direct-to-consumer fulfillment for a Fortune-500 department store retailer client and their manufacturer partners," explained Carol Weidner, CEO of eZCom Software.  "We included beneficial features such as custom-branded packing slips, high-volume direct-to-consumer capabilities (Lingo's Accelerated Document System™ streamlines and speeds packing and shipping with advanced batch processing), and shipping integration with FedEx and UPS.  The results have been so successful, we have expanded the drop ship solution to our entire customer base."
The New England Electronic Commerce Users' Group (NEECOM), formerly the New England EDI Users' Group (NEEDI), is a nonprofit organization established in 1990. Members are large and small organizations in a variety of industries, and include manufacturers, distributors, retailers, hospitals, insurance companies, motor carriers, universities, banks and government agencies. The common thread uniting the NEECOM community is interest in EC/EDI and related technologies, and support of innovation in this field. NEECOM provides a forum for business presentations, informs and educates the business community, shares information and new ideas, increases the opportunity for personal contacts and networking and expands the regional scope of Electronic Commerce/EDI. NEECOM welcomes companies who are at any stage in their implementation of Electronic Commerce.
Founded in 2000, eZCom Software provides cloud-based B2B supply chain software solutions—including the easy-to-use and streamlined EDI solution, Lingo.  eZCom's Lingo simplifies and speeds the trading process, while the eZCom customer service team exceeds expectations from first inquiry through implementation and sales growth.
Every member of the eZCom Customer Support Team is a trained and highly knowledgeable EDI professional.  Each works on-site at the corporate headquarters in Englewood, NJ to provide customers with unlimited, individualized, and highly effective education and problem solving throughout the EDI process.
To learn more about NEECOM, please visit www.neecom.org. For press inquiries, please contact Ira Keltz at 617-724-1832.
To learn more about eZCom and Lingo, please visit www.ezcomsoftware.com, email us, or call 201-731-1800, option 1.
Download this story as a PDF:  eZCom Press Release – NEECOM 2014 EC-EDI Award