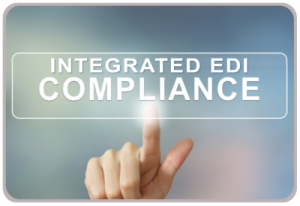 More and more, suppliers want to understand how integration of EDI with inventory, accounting, shipping, back office, ERP, and/or warehouse management can improve their internal performance and increase their value to the trading partner. As you consider integrated EDI options, especially for order management, make sure your provider's EDI integration doesn't compromise trading partner compliance while connecting data-sharing aspects of your business.
Automated compliance checks. Each retailer's specific trading rules should be programmed into the EDI application to ensure compliance throughout the order management process, and EDI providers should update these trading rules as needed in accordance with retailer changes. EDI solutions should automatically pre-validate outgoing documents prior to sending to ensure all retailer requirements are met, catching potential errors and preventing documents from being sent until corrected.
Batch processing to reduce manual entry and re-keying of data.  Batch processing is key to eliminating compliance issues due to human error. Choose a provider with an EDI program that enables 1) processing of multiple ASNs, invoices and other EDI documents at one time, 2) necessary updates and adjustments to EDI documents through a minimal number of steps, and 3) the ability to pack multiple ASNs with one command.
Ability to archive records for at least three years.  This enables vendors to correct errors if a retail partner misplaces a record or incorrectly levies a chargeback.
Excellent customer service and educational support. Responsive support increases the value of your EDI application tenfold. Support staff should have an understanding of all retail partners' compliance specifications, expert knowledge of EDI in general, ability to respond quickly when needed, and should offer complimentary unlimited services.
With retailer EDI requirements in mind, the successful integration of EDI with the supply chain can do more that offer automation and efficiency.  It can increase the compliance of your end-to-end order management process while offering tangible benefits and savings:  reduced data entry and human error, and increased market responsiveness. These factors help manufacturers of any size improve margins, learn more about your business through data visibility, and build your trading partners relationships by offering omni-channel market nimbleness.