At eZCom, we know today's trade moves at lightning speed.  And our innovative, cloud-based supply chain solutions ensure our customers come in first.
That's why we created Lingo–a smart and time-saving EDI (Electronic Data Interchange) application that simplifies and speeds the trading process; while ensuring compliance with trading partners.
That's also why our technical support consistently goes above and beyond our customers' expectations. We walk you through from initial implementation to fully-scalable expansion, and give award-winning customer service every step of the way.
Lingo, eZCom's cloud-based,  powerful EDI solution can fulfill all your EDI needs and grow with your company, no matter your company size or number of trading partners.
Experience Lingo
To register for Lingo, or to see a demo, please click on this link, or on the Lingo Logo below, to go to our Lingo demo center.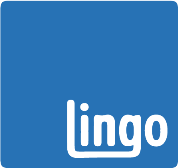 Learn More About Lingo
Visit the following pages to learn more about Lingo's powerful, easy-to-use features, and eZCom's additional, related EDI services.
Read Our Lingo and EDI Education Info and FAQ