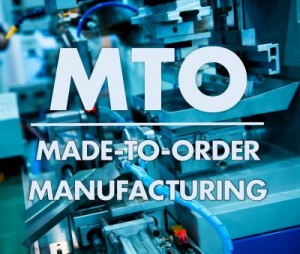 As published in RVCF Link
By Carol Weidner, CEO, eZCom Software
People like it how they like it.  And although this truth rings especially true with consumers, bespoke and customized items have traditionally remained the domain of the privileged few. The recent increase in both technological possibilities and consumer expectations, however, has led to the mainstreaming of 'mass customization'—the making-to-order of everything from shoes and bicycles, to DVDs and dolls.
Mass customization differs from high street hand-tailoring, or made-to-order fine jewelry in that it is personalization, scaled up—making customized items affordable for consumers to buy and manufacturers to produce.  Recent advances in 3-D scanning, modeling and printing; more flexible production systems; advances in enterprise and production software and sizing algorithms; and innovation in social technologies and platforms have all converged to make this improbable scenario possible.  And the ever-growing consumer expectation to having demands met quickly, conveniently and inexpensively, have made it—one could argue—inevitable.
How Does MTO Work?
Made-to-order (MTO) manufacturing diverges from a traditional made-to-stock (MTS) model in that it uses a 'pull' supply chain model, rather than a 'push' paradigm.  In MTO, the manufacturing (or assembling) process begins only after a customer places a confirmed order.  The quantity to produce per product specification is one, or only a few (as opposed to traditional MTS, where manufacture of multiple items per product specification would precede defined demand).  The challenge of MTO, of course, is to deliver items that fulfill production guidelines efficiently, cost-effectively, and within promised time frames.  Mastery of such 'lean' manufacturing techniques however can add up to dramatic savings through elimination of physical inventory, plus significant market opportunities and competitive advantage.
Early adopters of MTO (also referred to as 'Manufacture on Demand,' or MOD) have included the book publishing and DVD industries, as well as Dell computers and the National Bicycle Industrial Company of Japan.  Levi's and Nike also numbered among the first to join the growing personalized market, offering customized and style-your-own options online and in their flagship stores.  In the shoe industry, some innovators include Ferragamo with online customization options for their Vara ballet flats and men's Driver moccasins, Jimmy Choo with 'design online, pick up in store' possibilities, Converse offering customized graphics and colors, as well as others.  Some notable apparel adopters include online made-to-measure suit manufacturers Black Lapel and Indochino; as well as technology licensers and developers AM4U (Apparel Made for You)—a group of apparel industry luminaries providing cutting edge body scanning technology integrated with adjustable pattern software, color changes on the fly, waterless textile dying, and other novel resources. Standouts in the toy sector include AvaStars' unique flagship stores, which deliver a 3-D 'selfie' experience that results in both a customized short film and a fully pose-able doppelganger action figure; and UK firm 'Makies,' which recently hit the news for their 3D-printed look-alike dolls for children with disabilities.
The Next Wave:  Retailer/MTO Manufacturer Partnerships
Initially, most MTO manufacturers have offered their products through a proprietary online presence and/or through their own brick and mortar locations. However, the MTO trend does not need to disrupt retailer-manufacturer partnerships.  In fact, forward-thinking retailers and MTO manufacturers have recently created highly successful partnerships that have expanded the reach, cache, and bottom lines of both companies.  Stand-out examples include the Manolo Blahnik design-your-own boutique for Neiman Marcus online, and the in-store/online partnership between maverick MTO shoe brand Shoes of Prey and Nordstrom.  In the latter, customers may shop for Shoes of Prey remotely on Nordstrom.com, and enjoy interactive virtual shoe design experiences within exclusive in-store boutiques.
EDI for MTO
Such ground-breaking retailer/MTO manufacturer partnerships require EDI.  And since such partnerships are new and, to some degree, uncharted territory, not just any EDI will do.  Some key functionalities to look for in an EDI provider facilitating an MTO collaboration include:
Drop ship performance – Since neither the manufacturer nor the retailer have physical inventory on hand, all MTO partnerships will follow a drop ship to consumer fulfillment model.  And since profit hinges even more tightly on scalability, every opportunity for streamlining and efficiency becomes essential in the order management and fulfillment processes.  Look for an EDI provider that offers the following drop ship capabilities:
Custom branded packing slip – To create a seamless customer experience, most retailers require that their supplier partners create a custom packing slip that includes the retailer's name, logo, address, website, and any additional required information.
Integrated shipping – If possible, it's best to work with a platform that can integrate with FedEx and UPS, which saves time and resources while decreasing the margin of error.
Extremely efficient EDI – Drop ship providers—especially those operating on an MTO business model—must be able to process many documents quickly in order to save time and money. Batch processing of ASNs, invoices and other documents is crucial. Auto-creation of invoices and other time-saving features can also preserve resources.
Special drop ship pricing – EDI services must be priced to ensure the high volume, low quantity model remains profitable.
Exceptional customer support – To successfully handle high volume, suppliers need EDI customer service teams who provide education and support whenever needed, for as long as needed, until any problems are resolved.
Integration capabilities – Successful MTO manufacturing usually necessitates close connection of multiple novel applications in the areas of production, ordering, fulfillment and back-end. Most often, the more automated and interconnected the MTO supply chain, the better. For this reason, choose an EDI application and provider with strong facility for customized integrations and a record of on-time delivery.
Flexibility and quick rate of response to customer needs – An MTO partnership will rely on many aspects of a 'typical' order management process.  However, it will also require breaking new ground.  Your EDI provider's customer service and implementation teams must respond quickly to requests, think out of the box, and have a strong relationship with your retailer(s).
---
Carol Weidner, CEO of eZCom Software, is living proof of the adage "If you want something done right, ask a busy person." Soon after graduating from Rutgers University with a degree in Mathematics, she opened her own successful business – wholesaling home wares and accessories in the New York/New Jersey area. Carol continued in her entrepreneurial endeavors while she returned to Rutgers full time and completed a second degree in Biology. Following her (second) graduation, Carol learned computer programming and focused on EDI – working for companies serving the retail industry and consulting for major retailers like Toys "R" Us. When an opportunity arose to take over a small many-to-many retail portal in 2000, Carol grabbed the reins. She directed the finance and sales side of the burgeoning company, while working together with a team of colleagues who redesigned one of its key products to serve as a web-based EDI application. The result was the B2B supply chain software provider eZCom Software – and the cloud-based EDI solution, Lingo. 
Contact us to learn more about eZCom, including the powerful, cloud-based Lingo™ EDI Software.