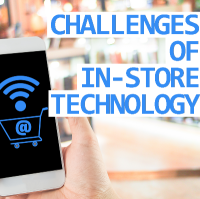 Streamlined supply chain processes are the foundation of seamless supplier-retailer relationships.  As retailers adopt new trends, the suppliers must switch gears with them. However, despite the promise and potential of in-store technologies, a gap exists between the real and the ideal. In  "The Future of the Digital Store," Forrester's Adam Silverman cites multiple barriers to adoption in most physical stores. These include:
Insufficient in-store internet and Wi-Fi prevent customers and associates from using digital technologies
A focus on transaction and inventory data instead of customer behavior overlooks the vital information required for driving engagement and influencing shopping decisions
Siloed departments are at cross purposes with overall company initiatives. For example, online purchasing combined with in-store pickup (or ship from store) credits online teams without factoring in store fulfillment efforts. Conversely, endless aisle conversions require DCs or other retail locations to do work for sales credited to in-store associates.
To overcome such challenges, Silverman recommends a phased transformation–one that accounts for each business's particular priorities, capabilities and culture. Piecemeal adoption of in-store technology trends without change management, cross channel integration, data collection and analysis may result in confusing consumers rather than enhancing their shopping experience.
For every channel that the retailer wants to get product to the consumer, the supplier is tasked with guaranteeing exceptionally fast and accurate order management while simultaneously tending to their ongoing supplier/retailer partnership.  Understanding the breadth and aspirations of a retailer's omni-channel initiatives is more than just helpful for vendors. A generalized understanding of "the plan" and rollout gives suppliers the opportunity to create the infrastructure to support the retailer. Whether it's direct to consumer, endless aisle or save-the-sale programs, supplier buy-in creates a foundation for compliant, appropriate fulfillment strategies that can respond to shipping to stores, consumers, and distribution centers as needed. Retailers and suppliers are aligned in their goal to increase customer satisfaction and increase sales with improved product availability, tracking and responsiveness whether the shopping is in-store or online.