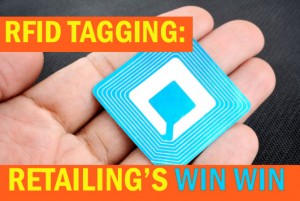 As published in RVCF Link
By Carol Weidner, CEO, eZCom Software
Many have predicted RFID (Radio Frequency Identification) tagging, or automatic identification and tracking through electromagnetic fields, as key to the future of retailing.  With major retailers' completion of highly successful pilot programs, that future has arrived.  Although any new technology has its challenges, RFID promises significant advantages in an omni-channel landscape—and benefits for both retailers and suppliers.
Where We Are, and What's Next
RFID made retail headlines in 2003 when Walmart pioneered its adoption on the pallet and case level.  The technology held great promise, and Walmart's mandate aimed at increasing supply chain efficiency. However, by 2007 the retailer had largely dialed back from this strategy, concluding that EDI and barcoding had created a streamlined receiving and distribution environment, and that RFID—at least in this context—was a 'solution in search of a problem.'
Though perhaps an unexpected outcome, Walmart's forward-thinking paved the way for apparel and general merchandise retailers' experimentation with RFID on the item-level.  Although recession-related challenges and some patent issues caused delays, initial trials delivered significant sales increases.  Today, Macy's/Bloomingdale's, Hudson Bay/Lord & Taylor, Saks, Target and others have seen extremely promising results in frequently replenished sectors such as denim, lingerie, and men's dress shirts; have expanded RFID programs to include seasonal fashion items with positive results; and have announced accelerated timetables  for full roll outs throughout their stores.  A 2012 study conducted by the VICS Item Level RFID Initiative, which interviewed 116 large-size retailers, suppliers, wholesale firms and vertical retailers, indicated the industry has reached a 'tipping point' with RFID adoption.  Survey findings showed 50% of retailers had already piloted RFID programs (many more than had publically discussed their activities), and suggested most retailers would utilize RFID by the end of 2016.  The GS1 US Standards Report of March 2015 reported 57% of US retailers as implementing item-level RFID by 4Q 2014, and an additional 21% planning to implement it over the following 13-24 months
What's In It for Retailers
Item-level RFID adoption offers clear benefits to retailers—especially to traditional retailers striving to 1) give customers a seamless 'omni-channel' experience and, 2) compete with e-tailers.  Proven advantages include greater inventory accuracy, improved point-of-sale, decreased out-of-stocks, improved loss detection, higher conversion, enhanced stock conversion reporting, increased full price sales and expedited returns.
RFID enables the scanning of up to 15,000 pieces of merchandise per hour, as opposed to 300 items per hour using a bar code scanner.  This makes it possible for stores to conduct multiple inventory counts per year as opposed to the traditional practice of taking one inventory count per year, and to maintain inventory accuracy in the high 90th percentiles. Such frequent counts allow for the correct placement of items in the right range of sizes, colors and styles on the selling floor—thereby boosting sales numbers in a particular store.  They also support the key omni-channel initiative of integrating stores, internet, and mobile devices so that store associates at any single location may sell merchandise from all store locations and online fulfillment centers for shipment to customers' doors.
'Pick to the last unit' efforts represent a key RFID opportunity for all retailers within the greater omni-channel initiative.  Typically, retailers don't expose the last item of a SKU to online sales because they don't have enough confidence in inventory to locate the item, and to locate it quickly. A recent Macy's analysis indicated that last units in stores represent 15-20% of total inventory—a massive amount of budget traditionally marked down or not sold—which RFID can instead convert to full price sales.
Macy's also recently expanded its RFID efforts, which it had previously focused on frequently-replenished items, to include fashion items.  Fashion items have a short window of sales opportunity—they stay on the floor only 8-10 weeks before markdowns occur.  Because of this, inventory accuracy can play a key role.  Staff must replenish items on the floor from the stockroom as soon as depletion occurs, and maximize timely multi-channel sales opportunities through frequent and accurate inventory counts. Macy's fashion pilot programs resulted in a sales lift of tagged items for the retailer, as well as improved gross margins and a reduction in the quantity of items requiring markdowns.
What's in it for Suppliers
At first glance, RFID item-level tagging might seem like yet another compliance hurdle for suppliers to jump—and a high one at that, both in effort and cost.  A closer look, though, suggests a more optimistic scenario.
GS1 US's Item Level RFID workgroup has developed a standardized best-practice guideline called the "Tagged Item Performance Protocol" (TIPP) to help the retail industry consistently define, test and verify the performance level of Electronic Product Code (EPC)-enabled RFID tags.  Prior to this development, retailers set their own expectations for tag inlays, requiring suppliers to provide different solutions for different customers.  TIPP has set a standard that alleviates this burden on suppliers, but still allows for flexibility.  Retailers can set performance levels for specific groups of items, and suppliers have various options for how they choose to meet those levels.
In addition, although cost per tag remains a concern, prices have dropped significantly over the past five years (especially for larger quantities)—a trend that will likely continue.
Plus, early adopters have reported upsides.  In the recent GS1 survey, suppliers cited multiple benefits from RFID tagging.  These included reinforcing authenticity, decreasing inspection costs, reducing shrinkage and enhancing logistics accuracy.  And better retailer numbers due to heightened inventory visibility, more full-price sales and overall omni-channel optimization add up to financial gains for suppliers, too.
At the January 2015 NRF conference, Ken Duane, CEO of Heritage Brands and North America Wholesale, PVH Corp (manufacturer of the Calvin Klein, Van Heusen, and Tommy Hilfiger brands—among others), described his own experience with RFID tagging and confirmed suppliers should take a positive long term view.  Although he admitted initially worrying about costs-per-tag, especially in light of his company's extremely high volume, the benefits of RFID adoption have more than defrayed PVH's expenditure. Improved margins and dramatic increase in full price sales—combined with on-time delivery, elimination of out-of-stocks, better sales projection, and heightened ability to service customers—have made his company's RFID experience a win-win.
eZCom Software, makers of the cloud-based and streamlined EDI solution Lingo™, facilitates fully scalable omni-channel trading partnerships that enable suppliers and retailers to significantly speed the order management process and enhance compliance. In light of the growing need, Lingo now allows for easy and streamlined on-screen ordering of item-level RFID tags that are cost-effective even if ordered in smaller quantities.  To learn more, please contact us at sales@eZComsoftware.com, 201-731-1800 option 1, or visit www.ezcomsoftware.com.]
---
Carol Weidner, is living proof of the adage:  'If you want something done right, ask a busy person.'  Soon after graduating from Rutgers University with a degree in Mathematics, she opened her own successful business—wholesaling home wares and accessories in the New York/New Jersey area.  Carol continued in her entrepreneurial endeavors while she returned to Rutgers full time and completed a second degree in Biology. Following her (second) graduation, Carol learned computer programming and focused on EDI—working for companies serving the retail industry, and consulting for major retailers like Toys R Us. When an opportunity arose to take over a small many-to-many retail portal in 2000, Carol grabbed the reins.  She directed the finance and sales side of the burgeoning company, while working together with a team of colleagues who redesigned one of its key products to serve as a web-based EDI application. The result was the B2B supply chain software provider eZCom—and the cloud-based EDI solution, Lingo.