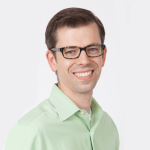 At eZCom, our people are our greatest resource. Check out our 'staff spotlight' to get more personally acquainted with the devoted professionals that make up our team.
Q: What do you enjoy most about your job?
Dallas: I really enjoy the group of people I get to work with. The customers are great because there is always a new challenge when you pick up the phone – what can I do to assist each person with their unique needs? When people call in, they start out nervous and unsure of what they are doing. My job is to listen, help them understand and accomplish what they need to do with Lingo, and show them how easy it is. Lingo is a great tool, so supporting them as they process orders and documents is easy.
Q: Why did you choose to work in this particular field?
I fell into it. I started off as a volunteer for a non-profit I really cared about, doing 'pick and pack.' At a medium-sized warehouse, my job was to select educational literature that shipped out monthly to 12,000 offices in the US and international distribution centers.
Q: How did you land at eZCom in particular?
I got a job in customer service at eZCom through the recommendation of an eZCom coworker. My background in warehousing has really helped me with the customers.
When I worked in order fulfillment, I had to focus on accuracy and speed. I learned the challenges that warehouses have when packing orders: you have to match the ASN or document, it is not enough to match the paperwork. The biggest take-away from my warehouse job was the importance of understanding and documenting (from start to finish) order fulfillment. At the warehouse, I moved up to a position as a Logistics Coordinator which exposed me to all the steps required for shipping as part of the import/export business. My objective was to push containers in and out as cheaply as possible and of course have 100% accurate paperwork every time.
Q: What do you like most about the eZCom environment?
I like this group of people – everyone, top down, is truly is a team player. It's a hardworking and cooperative atmosphere and every person's ideas and suggestions for improvements are considered. And, it feels good to say that I'm part of customer service and know that our group takes it seriously and is proud of what we do. Helping people every day makes you feel good when you go home.
Q: Can you recall one of your biggest challenges?
I have one big, recurring challenge! During peak times, when we have a very high volume of customer calls, we always make sure we get to everyone. It can make for very hectic days trying to get everyone the help that they need as quickly as possible. By the end of day, you feel good about having a crazy day putting out lots of fires and fulfilling many requests. Understanding that you helped people get their problems worked out makes it worth the stress!
Q: Favorite book or author?
I always return to Douglas Adams, author of the Hitchhiker's Guide to Galaxy (and many other books, of course). I think the book is hilarious and I enjoy it as much now as I did in sixth grade. As a philosophy applied to life, it helps remind me to see the humor in situations whenever I can.
Q: What are your passions when you are not at work?
I enjoy micro-brewing — the last batch was a German-style Altbier which was excellent. Now I'm waiting on a smoked IPA that is just about ready to be bottled. My wife is expecting our first baby soon. I hope that I'll still have time to make beer! I'm also into gardening, especially vegetable gardening; this year was a great year for tomatoes! I like eating what my garden produces – I planted potatoes for the first time and they are taking over my yard.
Q: Do you have any kind of a motto?
I am not much of a motto person, but I always strive to be real and sincere in everything I do. And laugh, too. Sometimes you need humor to get you through the day.
Q: If you could say one thing to someone who was new to Lingo, what would that be?
Never be afraid to call eZCom Customer Support with your questions. No matter how insignificant or silly, our job is to make sure you feel comfortable with your EDI process. We know that customers who feel that they have a support network behind them, feel more comfortable with EDI and technology. Just ask!