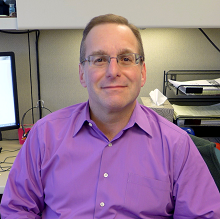 At eZCom, our people are our greatest resource.  Check out our 'staff spotlight' to get more personally acquainted with the devoted professionals that make up our team.
Q: What do you enjoy most about your job?
Jeff:  I really love my colleagues.  Everyone here is such an expert and so on top of their game, I've never encountered anything like it—and I had 21 years of professional IT experience before I joined eZCom.  This is hands-down the smartest, most devoted group I've had the chance to work with so far in my career.And of course I love helping our customers.  There are not many jobs where you can go home at the end of the day and feel like you really made a difference for someone, really gave them the tools they need for their business to succeed.
Q: Why did you choose to work in this particular field?
I worked at Macy's for thirteen years and had several different IT positions there, including Director of EDI. While I was managing Macy's EDI, I really enjoyed the work.  I also brought the division from last to first place in terms of department performance rankings.  So when I asked myself 'what do I like most and what am I best at?,'EDI and UPC management was my answer!
Q: How did you land at eZCom in particular?
After Macy's, I spent eight years as EDI Administrator at Children's Apparel Network.  I took care of everything on the vendor side – catalogue, labels, UPC codes, testing, compliance — everything.  This experience at CAN, combined with my period of employment at Macy's, gave me really in-depth experience on both the retailer and vendor sides.  It was almost as if eZCom created the position to fit my job profile.
Q: What do you like most about the eZCom environment?
Everyone here has a 'can do, let's take care of it' type attitude.  There is absolutely no one here who brings you down.
Q: Can you recall one of your biggest challenges?
When Target Canada stores were rolling out, we had a lot of customers involved and very short testing deadlines. This gave us a limited window to coordinate all the development and test all EDI documents.  It was an additionally complicated assignment because Target has unusual requirements for what they consider 'import' and 'domestic' vendors.  However, we were able to get the majority of our 28 customers up and running within a week.  Target and all the customers involved were very pleased in the end, and we were able to bring the whole project in under deadline.
Q: Do you have a favorite book or author?   
David Webber.  He writes military science fiction.  I love his stuff, it's all adventure stories.
Q: What are your passions when you are not at work?
I enjoy hiking, photography, and cooking.  Hiking, because I love the outdoors and seeing new places and meeting new people.  Hiking also lets me give back to the community:  I lead hikes on a regular basis for three different clubs.  Photography, because it provides a great creative outlet, because I'm good at it, and because it also enables me to give back:  I currently do a lot of pro-bono freelance photography for MorristownGreen.com.  Cooking is another wonderful way to be creative.  And of course, the most important thing about all of my passions, they are just plain fun.
Q:  Do you have any kind of a motto?
Yes.  'Do things that scare you.' If there are some tasks on your plate that make you uncomfortable, do them first. I really feel like there is nothing that a person can't overcome if they put their mind to it.