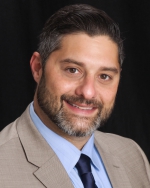 John Bozza, eZCom Business Developer, brings a sense of humor to a learning process customers often view as intimidating and stress-inducing.  His extensive background in 3PL, logistics, supply chain, and technology helps him market, demo and implement Lingo EDI software with clarity and professionalism.  He truly appreciates the EDI functionality and requirements that manufacturers need as they grow. 
Q: What do you enjoy most about your job?
I'm a naturally curious person. Business Development is the perfect way to learn about different businesses in so many industries. I enjoy learning everything about new products, including the manufacturing process, so that I can understand the supplier's total supply chain needs.
I especially enjoy assisting startups or smaller companies that finally have that 'big break' or opportunity to sell to a major retailer. As my customers make that quantum leap in growth and capability, being their trusted partner and EDI provider is rewarding.
As a 'techie', I also am interested in working with companies that are using software integrations that help the supply chain 'connect the dots'. Streamlining shared data for increased efficiency is exciting for me and the customer!
Q: Why did you choose to work in this particular field?
I started off in a different part of the supply chain: 3PL, warehouse, distribution, chain and logistics. My career began with small parcel logistics services followed by truckloads, less-than-truckloads, and then I moved to account management for Old Dominion, a national carrier, managing a lot of truckloads. After that I handled distribution for The Clark Group Inc. with multiple distribution centers (DCs) around the country. With my interest in software and connecting companies to the best services, EDI was a natural next step. As I already understood the necessity for EDI and how it worked in the grand scheme of retailer-vendor trade, getting familiar with the specifics of EDI technology and implementation aspects was my steepest learning challenge.
Q: What do you like most about the eZCom environment?
eZCom is very family-oriented, values personal relationships, and is unbelievably committed to customer satisfaction. Since I'm usually the first contact with the customer, I work very closely with my coworkers and all departments to make sure that the customer's needs are met. We work as a team when a vendor or retailer has a specific issue, like a drop ship program, or even GS1 label generation.
I appreciate the small company feel that eZCom maintains as it grows. As an eZCom employee, everyone from all departments – sales, development, and support – has a valued opinion; it's reassuring to know that my perspective is taken into consideration when broader decisions are made.
Q: How did your nickname 'Johnny EDI' come to be?
When I made the jump from general supply chain to EDI, I wanted to become an expert in EDI. Of course, I studied and worked hard to hone my skills explaining EDI and the unique approach that Lingo has for EDI processing. As I improved my ability to explain the process or flow of EDI, 'John the EDI guy' transformed into 'Johnny EDI' and the nickname stuck. Of course, anyone who knows me will tell you that I bring a sense of humor to my job which can often put a stressed-out client at ease. If Johnny EDI can do it, so can you!
Q: Can you recall one of your biggest challenges?
Technology options for cloud-based software are expanding all the time. For me, it was probably getting the first ERP integrations running, whether it was with a 3PL (warehouse) or an individual supplier.  For all these types of partnerships, it's important to develop a trusted relationship.  Along the way we're there to help deal with the inevitable bumps in the road.  Our team has the conviction and skill to get a complex integration perfect, enabling customers to streamline the order management process, save time and reduce errors. Making the customer's life easier is always my number one priority.
Q: What are your passions when you are not at work?
I enjoy all kinds of outdoor activities like running and mountain biking, and I practice jujitsu. I'm also an animal lover with two chatty cats and a very busy puppy. Keeping me even busier these days is the future Mrs. Johnny EDI. We are settling into our new home with our pets and getting ready for a fall wedding. Moving, marrying and a menagerie are keeping me out of trouble!
Q: Do you have any kind of a motto?
"Don't put off to tomorrow what you can do today." I was in combat arms/field artillery in the Army which taught me discipline, hard work and leadership. My experience with some of the absolute best leaders transformed me from 'extraordinary procrastinator' into someone with a daily plan for achieving personal goals.
Q: If you could say one thing to a new eZCom client, what would that be?
Welcome! At eZCom, you're not just a customer; we will do everything possible to make your experience smooth. We are here to support you as you grow. We have customers who start with one trading partner, then they add more retailers, then we integrate Lingo with QuickBooks or some other software. Eventually they're using an order management/ERP system and eZCom integrates with that next. The point is, with every client, we begin with standard vendor-retailer setups and we are with them as they grow – and without any interruption in business. You can be confident that we have the EDI portion of your business handled so that you can focus on sales and growth. After all, who wants to do EDI when you can be promoting your own passion? We've got that!
Q: What are some of the tools that help you succeed in business development?
My focus is on providing Lingo demonstrations, because it always impresses. The demo gives the customer a first-hand view of how cloud-based EDI software should work. If they're new to electronic data interchange, it helps them understand the document trading process: POs, ASNs, inventory, shipping, warehouses and more. For some people, the demo reassures them because they're terrified of EDI. As Johnny EDI, I often tell them that EDI stands for "Everybody Dreads It" and I completely understand their trepidation. After a demo, I consistently get the same response, "EDI is so much clearer, I'm not nearly as scared of EDI as I was before."
Q: Do you have a favorite author?
I am a long-time fan of David Sedaris. His sense of humor and perspective on his own life, his crazy Greek family in North Carolina and, of course, his job experiences, are very entertaining. His books are collections of short stories so they're a quick read—perfect for a busy guy who appreciates something short, insightful and funny. And, now that I have a puppy, I'm reading all about dog training and realizing that I have a ridiculous amount to learn.