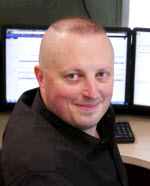 Stas Nazarenko's calm demeanor and technical background help diffuse a supplier's stress while resolving their EDI problems. His background in IT, appreciation for a manufacturer's business needs and sense of humor keep the calls both light and productive, making Stas an oft-requested and much appreciated member of the eZCom support team.
Q: What do you enjoy most about your job?
I really enjoy working with all the people who work at eZCom. Specifically, the EDI support group is full of people who are always willing to step up and be backup to resolve a customer problem. At any point during my week, it's reassuring that we are very focused on customer satisfaction as a team. When I need an answer, coworkers and supervisors are ready to extend a hand – no matter how challenging the call. Sometimes the problem is technical and sometimes the customer needs information or training. When I answer the call, how can I put the customer at ease, get the information we need, and resolve their EDI problem quickly?  For example, how do I help a client who may have entered incorrect data on their ASN, or didn't realize a single PO was shipping to more than one location before sending their ASN to the retailer?  Lingo has powerful tools that allow a user to make corrections to previously transmitted documents, so that they may be adjusted and resent to the retailer.  The end result is a satisfied vendor whose EDI problem has disappeared while meeting the retailer's compliance requirements.  I definitely feel valued when I can help a Lingo user through the process and 'save the day', eliminating potential chargebacks, lowering the user's stress and helping to build his EDI confidence.  The appreciation and relief I hear at the other end of the phone line is rewarding.
Q: How did you get your job at eZCom?
I'm a numbers and technology guy with a long history of IT-related jobs. I worked for a national web-hosting server company for more than ten years doing UNIX administration. After that I owned my own business performing IT technical support and related services for small, local businesses. Unfortunately, due to Hurricane Sandy, I lost both my business and my home. A former IT colleague recommended applying for a job at eZCom.  It's been a fantastic experience. Although I would never recommend a natural disaster as an impetus for a job change, I am very happy to be here.
Q: Can you recall one of your biggest challenges?
Every customer support call is a surprise. Some days go quickly because there are lots of shorts calls that continuously stream in. On the other hand, I have spent up to three hours on single call. I realize that most vendors are very savvy about their product, are running their own business just as I did, and EDI is just something they are forced to do. And, especially if they're not computer oriented, it's my job to sit back and calmly help them step by step. As an example, I have one customer selling high-end products whose orders vary a lot from PO to PO.  Luckily, Lingo has 13 different pack methods, so we work together regularly to figure out the optimal way to efficiently pack their products while satisfying the retailer's requirements. Some Lingo users sell and ship pallets of products in the same way over and over again and others have multiple, unique orders with a wide variety of UPCs that must be shipped to retailers with vastly different requirements. No matter how the retailer wants it and how the manufacturer makes it, my job is to help the vendor process their documents correctly, efficiently and cost effectively. At the end of every call, I like to think that we have solved a problem and perhaps had a few enjoyable minutes together.
Q: What are your passions when you are not at work?
I get pretty excited about global currency market trading. After a long day of support, I enjoy a technical analysis of Forex charts and, by detecting patterns, try to forecast the next day's market movement. I play a bit with real money but it's mostly just the challenge to see if my predictions are right. I am also an extremely avid New York Rangers follower and never miss a game. Henrik Lundqvist is my favorite goalie and I'm a huge fan of Pavel Datsyuk, "the Magic Man", who plays for the Detroit Red Wings. If there isn't a hockey game to watch, my next choice is English Premiere League soccer – go Manchester United! To summarize, the perfect after-work evening is a nice glass of red wine, Rangers on the TV and Forex charts on my lap. However, it can be a little complicated if the Rangers are playing Toronto – my wife is Canadian and a huge Maple Leafs fan!
Q: Do you have any kind of a motto?
I'm not much of a motto person but I believe that humor gets me through the day – laughter is the best medicine.
Q: If you could say one thing to a new eZCom client, what would that be?
Every day, I get at least one client who regretfully says, "I should have called you." Don't be that person. Just pick up the phone, call the eZCom support team and we will HAPPILY make your EDI flawless. If you're thinking of calling, do it because there are NO stupid questions. In fact, most of the time, a simple clarification or confirmation will make your life much easier and you will learn a little, too. I live, breathe, and talk EDI at least eight hours a day so use my expertise. You'll feel better and maybe we'll have a little laugh.
Q: What are some of the tools that help you succeed as a support person?
Everyone has frustrating moments, but I share the load and every call with an incredible team. Knowing that there is a whole group of people who can help me help you gives me confidence and I think that shows. With my strong IT background, I start with some key questions to determine a customer's urgency, pace and depth of knowledge so that I can get to the next step and move toward resolution. And, of course, it really helps me when the client says thanks. Whether it's verbally at the end of the call or an email later – knowing that I have made someone's day boosts me for the next call. And, there's always another one!