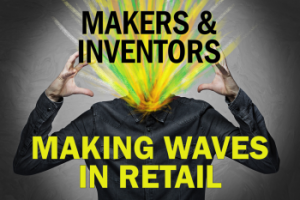 As published in RVCF Link
By Carol Weidner, CEO, eZCom Software
These days, it pays to be creative. Especially if you've got a unique product idea and a pinch of entrepreneurial knack.
According to many industry experts, today's 'makers' may just reshape retailing's topography. These rising inventors sit at a distinctive crossroads between technological know-how and crafty prowess. Their products—ranging from smart home appliances to robots, from out of the box baby gear to clever cookies and sassy sauces—often (but not always) incorporate technology and a clever angle as part of the package.
The maker movement has picked up steam and put inventor vendors in an exceptional position. Instead of courting retailers to distribute their products, in many cases retailers are coming to them. How did a gutsy group of DIYers end up making retail industry waves?
Built-in PR. A myriad of popular inventor-based reality shows—over a dozen at last count, with household names like Shark Tank, Mark Cuban's American Dream, Invention Hunters, and Make Me a Millionaire Inventor—create a market for products

before

they launch. Many maker projects also begin on Kickstarter, which can come with its own viral buzz. Because of the positive and popular association now planted in the consumer psyche, even inventions without a media platform can ride on the coattails of their higher profile counterparts—as long as they have a compelling story and unique functionality. By entering into an exclusive or even semi-exclusive relationship with the creators of these pre-publicized products, traditional retailers entice buyers to their sites and stores—resulting in sales not only of the spotlighted inventions, but of incidental offerings as well.
Cost savings on research and development. With rising consumer expectations and fiercer competition, conserving resources becomes more important than ever before. Outsourcing the development of engaging, original products is a great way for vertical retailers and large manufacturers to save on the front end, but still benefit from increased sales.
The innovation factor. Newness sells, and jumping on the latest and greatest brings benefits that retailers can take to the bank. With the growing popularity of Maker Faire events across the country, established, global manufacturers such as Intel, GE, Disney, Microsoft and Ford are joining retailers in the search for new ideas and applications as both Faire sponsors and exhibitors.
Brand enhancement. According to branding experts, many consumers have a latent mistrust of corporations and mass produced goods and an inherent preference for artisan and inventor-produced products. Shoppers are attracted to the individuality and the personal stories of makers, and featuring 'personally-produced' goods boosts retailer legitimacy and market differentiation. On top of this, attributes of innovator narratives often strengthen and refresh core attributes of retailers' brands (e.g. pioneering spirit, American work ethic, innovation, quality, craftsmanship, etc.). 
Quick-turn production and delivery of mass customization. 3D printers and 'makerspaces' make it much faster and less expensive to create a prototype and bring it to market, enabling makers to pivot with today's rapid-paced changes in technology and consumer demand; these tools also enable designers to easily and efficiently fulfill consumers' desire for personalized products.
So who's on board?
Traditional retailers like Staples, Target, Home Depot, Barnes and Noble and many more have embraced the creative inventor movement, installing showcases of maker stories and products in their brick and mortar and online stores, sponsoring 'Maker Faires,' and otherwise engaging their brands with all aspects of limitless inventing. Many large manufacturers and vertical retailers (e.g. Levi's, GE, Intel) have co-opted maker culture and inventor partners into their sales and marketing as well. Trade publications devoted to the niche have expanded their readerships, and trade shows have added and enlarged inventor pavilions. Amazon, the nemesis of traditional retailers, has ironically given one of the strongest testaments to both the pervasiveness and growing importance of inventive products to retailing. Recently, the e-tailing giant 1) announced a new marketplace, Amazon Launchpad, designed to give entrepreneur inventors a way to bring their products to market online (and get Amazon in on the action); and 2) unveiled its Amazon Exclusives section, showcasing unique and innovative product successes from TV shows and online.
From the prototype to store shelves
Now that the stars have aligned to bring them together, what do retailers and inventors need for a smooth and profitable collaboration? One vital tool: the right EDI provider. An inventor/retailer partnership requires high performance in key areas of order management:
High volume drop shipping capabilities. Direct-to-consumer shipping powers online maker sales. Partners need to move quickly and accurately to stay profitable. EDI applications should deliver automated batch processing of EDI documents for speed and compliance, custom-branded packing slips, integration with FedEx and UPS, and special drop ship pricing.
MTO facilitation. Maker products that follow a Made-to-Order (or MOD, Manufacturing on Demand) model require a unique suite of EDI functionalities to specifically support the customization demands of such leading edge collaborations with retail partners.
Ability to conserve resources. Most creator ventures are startups, short on staff and funds. As such, they benefit considerably from automated batch processing of EDI documents, automated ensured compliance to trading partner rules, and easy to use software; such features facilitate dramatic savings of both time and finances.
Thorough education and expert, individualized support. The majority of new product manufacturers are experts in their product line, but usually untrained in the trading partner's process. Customized support, tailored to their experience and specific business needs, enable fast and profitable cycles with trading partners and virtually eliminates the retailer challenges of onboarding vendors unfamiliar with EDI.
eZCom's EDI application Lingo™ caters to these specific needs of inventors, creators, makers and their retail partners. To learn more about how Lingo supports new product developers and retailers actively seeking the advantages of this new market, please contact sales@eZComsoftware.com, call 201-731-1800 option 1, watch eZCom's inventor-focused recorded webinar '5 Tips to Get Your Product Ready for Buyers', or visit www.eZComsoftware.com.
---
Carol Weidner is living proof of the adage: 'If you want something done right, ask a busy person.' Soon after graduating from Rutgers University with a degree in Mathematics, she opened her own successful business—wholesaling home wares and accessories in the New York/New Jersey area. Carol continued in her entrepreneurial endeavors while she returned to Rutgers full time and completed a second degree in Biology. Following her (second) graduation, Carol learned computer programming and focused on EDI—working for companies serving the retail industry, and consulting for major retailers like Toys R Us. When an opportunity arose to take over a small many-to-many retail portal in 2000, Carol grabbed the reins. She directed the finance and sales side of the burgeoning company, while working together with a team of colleagues who redesigned one of its key products to serve as a web-based EDI application. The result was the B2B supply chain software provider eZCom—and the cloud-based EDI solution, Lingo.