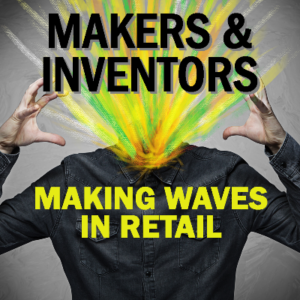 According to many industry experts, today's 'makers' are disrupting retailing's topography. Whether you're discovering new, problem-solving products on the shelf of your local store or flipping through TV channels, inventors and their big ideas seem like they are popping up everywhere.
The maker movement has picked up steam and put inventor vendors in an uncharacteristic position. Instead of courting retailers to distribute their products, in many cases retailers are coming to them. How do bold DIYers turn industry tables?
Built-in PR. Popular inventor-based reality shows—Shark Tank, Mark Cuban's American Dream, Invention Hunters, and Make Me a Millionaire Inventor—create a market for products before they launch.
Viral buzz. Many maker projects begin on funding platforms like Kickstarter which come with social media sharing tools to generate interest and investment.
Everybody's doing it. Even inventions without a pre-built financial or media platform can ride on the coattails of their higher profile counterparts and pique consumer interest—as long as they have a compelling story and unique functionality.
Shared shelf space. By locking in trending products early, traditional retailers entice buyers to their sites and stores—selling the spotlighted inventions as well as other, less well-known designs.
Cost savings on research and development. By outsourcing product development and monitoring consumer interest, vertical retailers and large manufacturers save on front end costs, but can still benefit from increased market visibility sales.