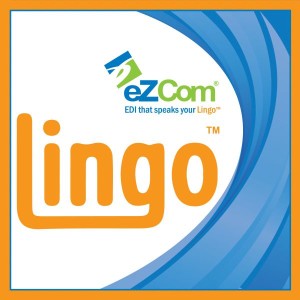 By Carol Weidner, CEO, eZCom Software.
Recently, my team and I had the honor of exhibiting and speaking at the Retail Value Chain Federation's Annual Fall Conference in Scottsdale. RVCF hosts educational forums and conducts research throughout the year, providing retailers and suppliers the opportunity to better understand each other's needs, review performance, resolve issues and build stronger relationships. RVCF's important efforts give trading partners opportunities to solve some of the most challenging issues of the day, in a manner that is a win-win for all involved.
In case you weren't among the 450 retailers, suppliers and service providers lucky enough to attend this in-depth and informative event, here are five hot topics the conference addressed:
RFID is around the corner. Technological advances can allow for tighter control of inventory, and RFID (radio frequency identification) is about as tight as you can get. RFID enables the quick and accurate tracking of product from warehouse through stores, down to the individual piece, allowing for an unrivaled level of operational efficiency.  Once more widely adopted, RFID tags will serve as a key element in delivering the seamless 'omni-channel' (or omni-channel) shopping experience to customers, currently prioritized by our industry.RVCF had experts from GS1 discussing best practices in item-level RFID adoption, and even held a hands-on educational workshop at the conference. Sessions also explored best practices in other areas of omni-channel retailing, such as buy online, pick up in store, and same-day delivery. As these practices develop and become more widespread, RVCF plans to continue sharing research and findings with the greater retailing community.
Drop ship is a definite 'to-do.' The conference hosted several presentations on drop ship best practices, including the workshop given by eZCom's own CTO Bernie Byrne and Nordstrom Technical Lead Debbie Nyquist, 'EDI-enabled Pathways to Streamline and Simplify Direct-to-Consumer (Drop Ship) Fulfillment.' Attendees learned how to cost effectively and easily utilize drop ship to:

compete on a more level plane with e-tailers
extend product offerings without incurring additional costs and risks
offer higher volume direct-to-consumer capabilities
enjoy overall enhanced supply chain and higher profits.
Over the next couple of months, RVCF will work to develop a mutually acceptable agreement between retailers and suppliers regarding drop ship standards that will enable all parties to gain in margin (estimated release is 1Q 2015).
Sustainability is a mainstream concern. In response to this growing priority among retailers, suppliers and consumers, conference presenters highlighted best practices that support the greening of the retail supply chain—demonstrating environmental and economic concerns can live on the same page. Attendees learned ways to streamline and conserve resources in the order process, inventory, packing and fulfillment, sourcing and shipping.
Brick and mortar is back in style. RVCF's keynote speaker, Doug Stephens of Retail Prophet, argued for the increasing relevancy of the brick and mortar experience, even as omni-channel retailing grows in importance. Although virtual shopping has changed the way consumers shop in stores, Stephens pointed out that brick and mortar shopping also affects the virtual shopping world—and predicted technology will strive to accommodate consumers' ongoing desire to touch, feel and 'try-on' products. He also argued the in-store experience will always have its important place, although retailers will need to refocus it as more of a true 'experience'—with greater emphasis on social and entertainment elements to add to the draw.
It's what you know… AND who you know. In today's instant and virtual world, it's easy to forget: strong personal relationships form the foundation of successful business.  When business models incorporate the interests of all parties involved, the accomplishments keep rolling in. Valuable face-to-face time, like that afforded at the recent RVCF conference, reminds us we all share essential interests with a greater community. When we work through challenges and set common goals, everybody wins.
eZCom's streamlined EDI solution Lingo™ facilitates many of the top priorities discussed at RVCF, keeping you ahead of the industry curve. RVCF held up Lingo's drop ship solution as a best practice example, and the retail industry has garnished it with awards. Lingo facilitates the easy production of RFID tickets. And Lingo's ultra-fast Accelerated Document System™ (ADS) batch processing provides for heightened efficiency and sustainability throughout the order management and fulfillment processes. To experience a Lingo demo, please Contact Us or call 201-731-1800, option 1. For more information about RVCF and their recent Annual Fall Conference, please visit their website at www.rvcf.com.
---
Carol Weidner, CEO of eZCom Software, is living proof of the adage: 'If you want something done right, ask a busy person.' Soon after graduating from Rutgers University with a degree in Mathematics, she opened her own successful business—wholesaling home wares and accessories in the New York/New Jersey area. Carol continued in her entrepreneurial endeavors while she returned to Rutgers full time and completed a second degree in Biology. Following her (second) graduation, Carol learned computer programming and focused on EDI—working for companies serving the retail industry, and consulting for major retailers like Toys R Us. When an opportunity arose to take over a small many-to-many retail portal in 2000, Carol grabbed the reins. She directed the finance and sales side of the burgeoning company, while working together with a team of colleagues who redesigned one of its key products to serve as a web-based EDI application. The result was the B2B supply chain software provider eZCom Software—and the cloud-based EDI solution, Lingo.
Contact us to learn more about eZCom, including the powerful, cloud-based Lingo™ EDI Software.